Ciels Rouges, 2022
2018, more than 300 ha of a forest have burned in Treuenbrietzen. During 5 years, Pyrophob, a project, that brings together 8 scientific institutions, will study if and how it is possible for an ecosystem to regenerate by itself. Thanks to Pierre Ibisch and the team of HNEE, I could have follow some parts of the project. 
The first time I went there in March 2020, I saw a "a field of pines" * (Florent Jouy), burnt trunks were standing, and in-between, the first young poplars grew. Two years later, almost all trees were lying on the floor after the big storms last March. During two years, I was able to observe some transformations of a damaged landscape, between minimal traces of a fragile reconstitution and some irreversible evolutions. I worked on site with photographs, video, drawings. 
I built an installation made from pieces of burnt birch bark collected in Treuenbrietzen.The decontextualization of these materials from Treuenbrietzen refer us to the precariousness of the balance between what endures and what is lost. I used as well a Camera Obscura to fix traces of the fire on the bark, mushrooms, bursting, burns, … I draw a map from a drone's image of the area, each trait of pencil represents a falling tree in the area. 
With "Ciels Rouges" I want to propose a reflexion about the action of time and our relationship to the living, to consider our environment made both of fragile resources and phenomena that are beyond us.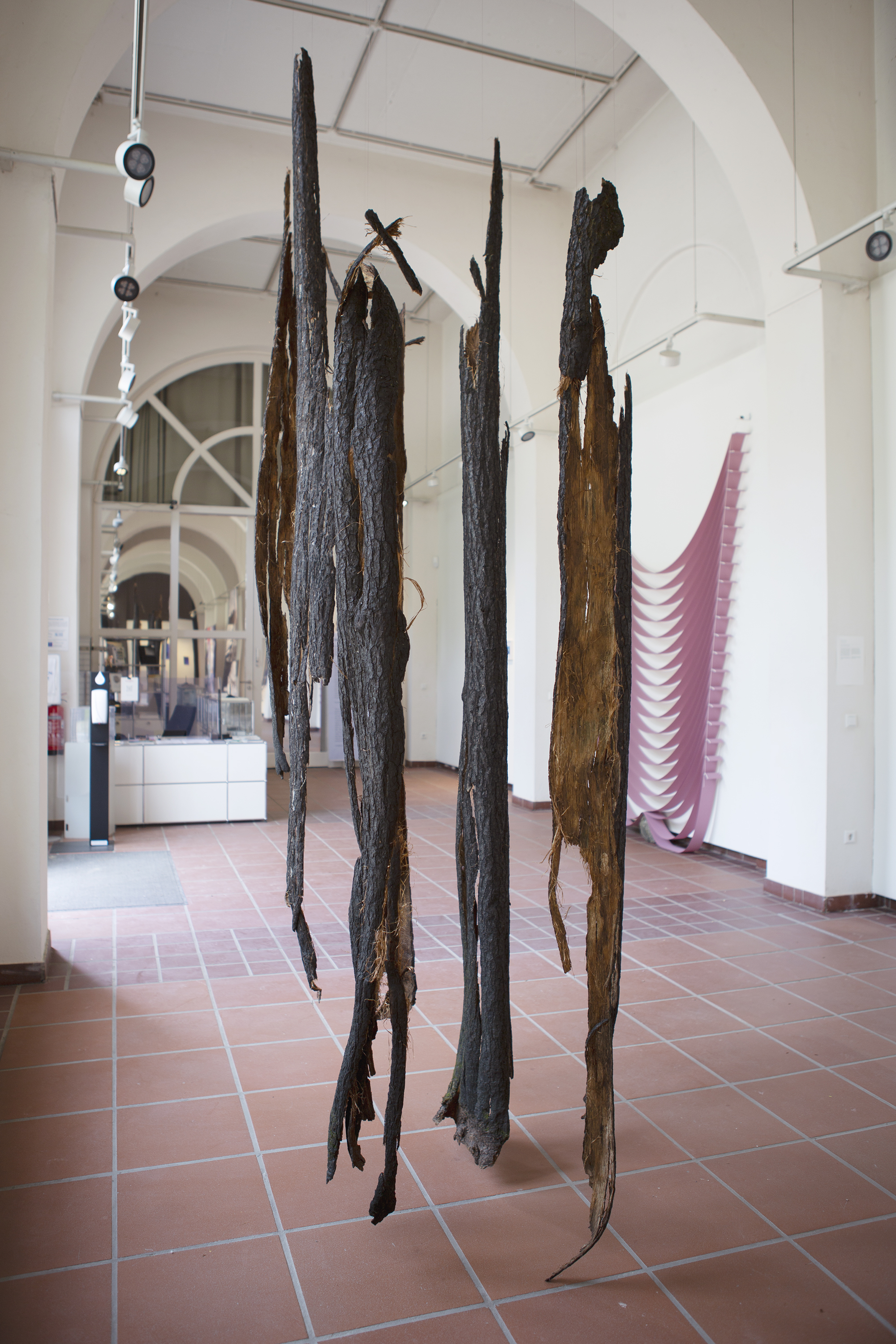 Ciels rouges, 2022, Burnt birch bark from Treuenbrietzen, Polyamid thread, dimensions variables
Ciels rouges, 2022, Burnt birch bark from Treunbrietzen, Polyamid thread, dimensions variables © Nihad Nino Pušija
Ciels rouges, 2022, Burnt birch bark from Treunbrietzen, Polyamid thread, dimensions variables (Detail) & Les  arbres tombés, 2022 – Pencil, charcoal, Hahnemühle Papier 300g/m2, 594 x 841 cm
Mycélium, 2021- Fine Art Papier  Arches Velin BFK Rives Edition d'Art, 250g, 56*40 cm
Mycélium, 2021- Fine Art Papier  Arches Velin BFK Rives Edition d'Art, 250g, 56*40 cm & Les  arbres tombés, 2022 – Pencil, charcoal, Hahnemühle Papier 300g/m2, 594 x 841 cm
» Works