Untitled (L'Après) & Le Jardin des Plantes Horizontales, 2020-2021
Cette photographie appartient à un cycle d'installations, photographies, autres médias, en rapport avec les quatre éléments, thématisant la relation de l'être humain à la destruction de la nature.
La photographie a été exposée une première fois en septembre dernier à la galerie Subtei, Berlin, pour l'exposition pilote : Linden, en correspondance avec quatre plaques faites d'argile, marquées d'empreintes. La forme de ces empreintes provenant de plantes de différents pays. reflète la potentialité de croissance des plantes à se développer même dans des conditions inappropriées.
Ce travail est en cours, je prévois une installation de douze à une vingtaine de plaques, dans une maison enduite d'argile, je ne pourrais le continuer qu'à partir du printemps, le travail de l'argile exigeant des temps de séchage longs.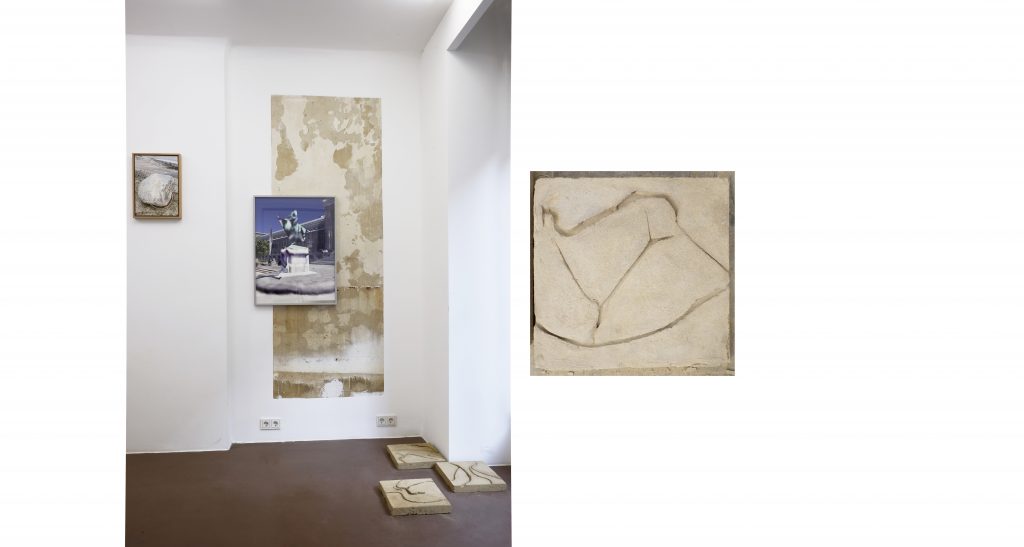 Photographie d'exposition, Subtei, Berlin, 2020- à gauche © Catherine Rose Evans & Kathrin Ganser- Exhibition 's view, Subtei, Berlin, 2020- left © Catherine Rose Evans & Kathrin Ganser
Le jardin des plantes horizontales, 2020- Argile, empreintes de plantes, 32,5'32,5*4,5 cm chacune- The garden of horizontal plants, 2020- Clay, prints of plants, 32.5'32.5 * 4.5 cm each
This work belongs to a cycle of installations, photographs, videos and other media, which relate to  the relationship of human beings to the destruction of nature, in association to the four elements. The plates are made of clay, with prints of plants from different countries. Their shape reflects the growth potential of the plants and how they develop albeit under inappropriate conditions. 
This project is a work-in-progress. A picture and 4 plates were shown in a exhibition pilote : linden in Subtei, Berlin, september 2020. I would like to do an installation with more plates (between 12 and 20) in a house with walls of argile. I would go forward with this work duing the summer, the argile's paltes need a long time to dry.
» Works