When Water comes together with other Water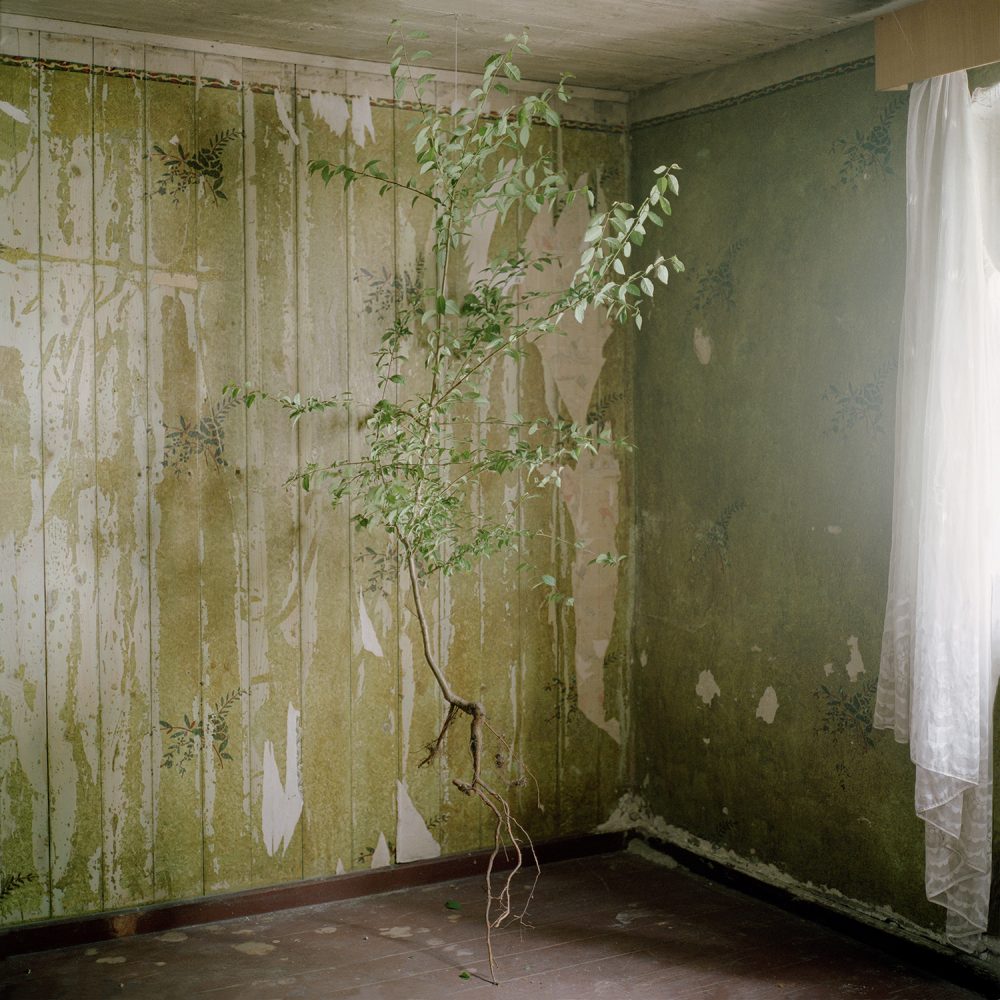 When Water Comes Together With Other Water, L'arbre, 2012 
Le titre de la série When Water Comes Together With Other Water se réfère à un poème de Raymond Carver ( "Where Water Comes Together With Other Water"). Une lettre a été changée afin d'y ajouter la notion de temps et celle d'intemporalité. L'écriture de Raymond Carver est concise et précise, et capte en quelques mots la fragilité d'une situation et de ses personnages, le silence dans ses dialogues joue également un grand rôle.
La série "When water comes together with other water  mêle photographies de paysages, intérieurs construits et autoportraits. Les installations sont faites à partir de matériaux trouvés, de restes de plantes et dans des lieux où les traces d'un vécu sont encore perceptibles. La composition est minimaliste, les couleurs sont diffuses et la distance choisie entre le sujet et l'appareil photographique joue sur l'ambiguité entre l'éloignement et la proximité du sujet.
A trois échelles, celle du corps, celle de l'espace et du paysage, les photographies traitent de la vulnérabilité de la relation entre le corps et la nature.
When Water Comes Together With Other Water, L'arbre pelé, 2013 
When Water Comes Together With Other Water, L'arbre pris, 2018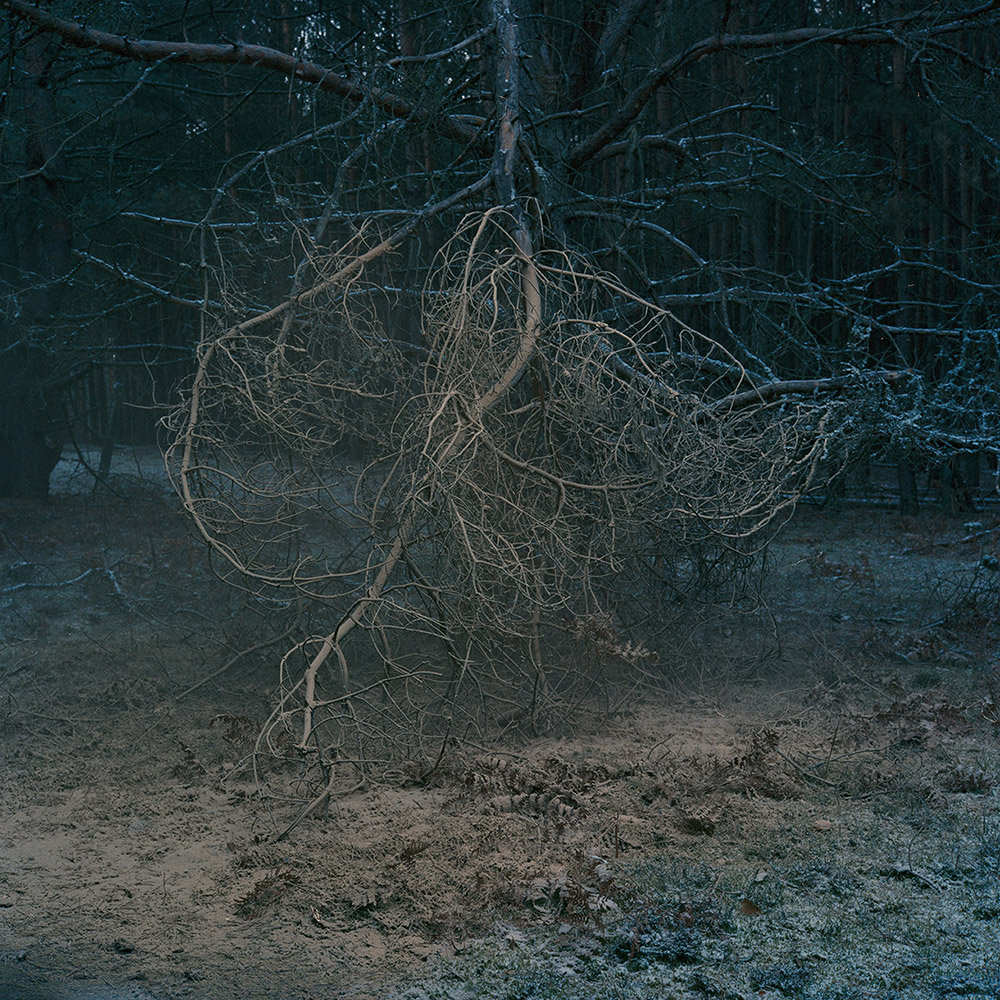 When Water Comes Together With Other Water, La branche cendrée, 2015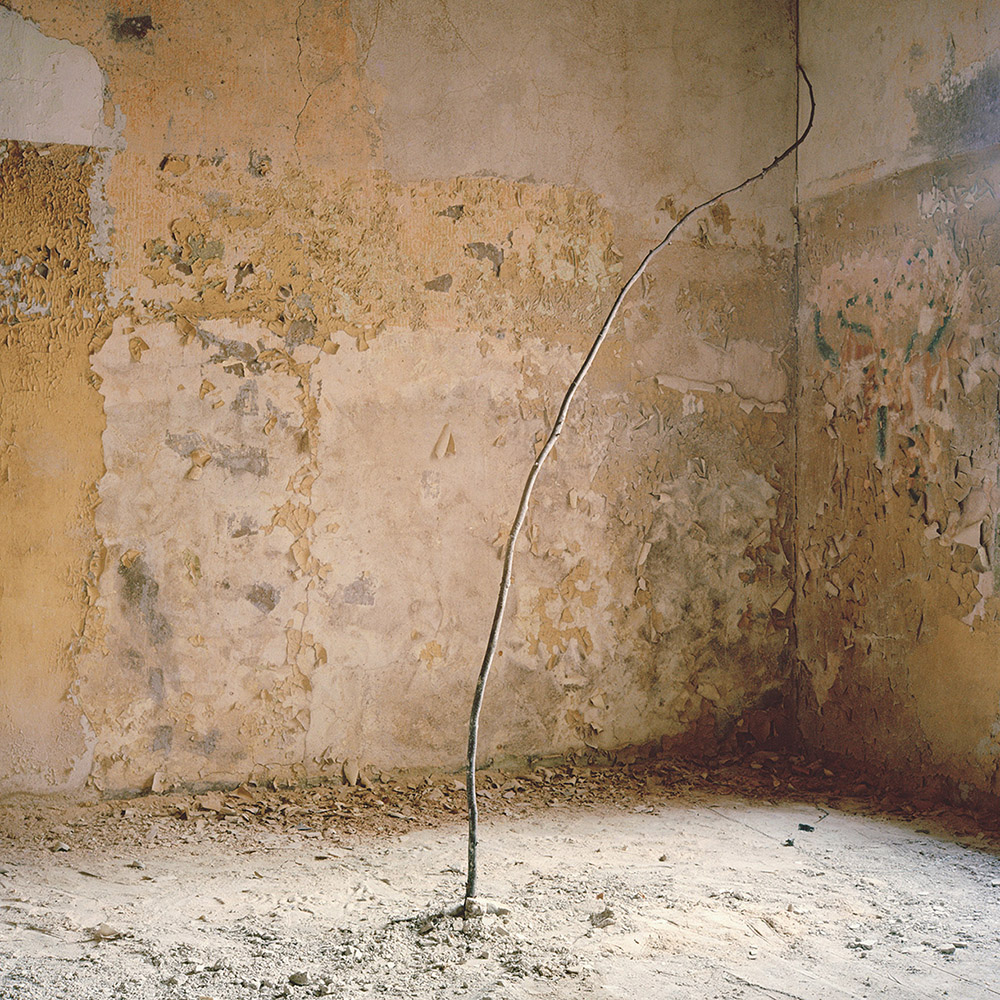 When Water Comes Together With Other Water, La branche, 2015
When Water Comes Together With Other Water, La racine brulée, 2015 
 When Water Comes Together With Other Water, Les fleurs noires, 2013
Le titre de cette série "When Water comes together with other Water " a pour origine l'univers littéraire de l'immense nouvelliste américain Raymond Carver, qui se caractérise par une écriture concise où les silences de ses personnages, cabossés de la vie, valaient tous les mots. En quelques lignes, il avait l'art de l'ellipse.
La série de Claire Laude est à aborder par le chemin de l'introspection et donc également de l'ellipse, ces images ne représentent en fait qu'une seule, vaste et contradictoire dérive identitaire, parfois psychique (et abordé alors d'un point de vue) parfois physique.
L'introspectif est un exercice délicat, une juste distance est nécessaire afin d'échapper au risque du m'as-tu vu outrancier. La première qualité de ce travail est d'éviter justement cet écueil, Claire Laude joue de cette présence devenue illusoire en opérant des contractions entre le réel et son double avec délicatesse, elle s'affranchit de la facilité de vouloir tout montrer et de tout donner en pâture à l'œil boulimique par un certain dépouillement. Elle nous accompagne ici dans un labyrinthe ou chaque image est la pièce d'un puzzle. Elle enchaine paysages à l'ailleurs indéterminable proche de l'effacement (ces voyages immobiles possèdent une intemporalité indéniable), et corps, de dos le plus souvent, en situation d'équilibre précaire. Chacun représentant l'extension et la vision mentale de l'autre, comment ne pas ressentir un fort sentiment de solitude et de vulnérabilité en regardant cet arbre, seul résistant à la destruction, ou cette bibliothèque, ombre d'elle-même où tous les livres sont inversés, entre il y a cette figure, presque primitive, isolé et chancelante, présente et pourtant si absente. Claire Laude se joue ainsi du pli, repli, de l'inversé et du déplié de la présence.
Cependant cette précarité n'est pas à prendre sous le seul spectre de la mélancolie, cette série joue certes de l'invisible et du basculement, mais elle nous amène à faire l'expérience de quelque chose d'essentiel, d'osseux ; j'entends par là un positionnement presque structuraliste qui est détaché de tout maniérisme, cette nature et sa nature, sur lesquelles elle intervient ou par lesquelles elle se joue, crée une atmosphère aux éclats brisés. Les teintes se font tactiles plus que visibles, elles sont retenues, se rapprochant ainsi d'un souffle vital, elle préfère le spectral au spectaculaire. Il n'y a aucune posture, aucune artificialité dans ce travail, il se déroule ainsi à contre-courant de biens des facilités actuelles. Elle ne montre rien de trop et donc de superflu. On effleure une surface qui en soit nous reste impalpable. Ce jeu de miroir se révèle et nous révèle une photographie en périphérie, qui n'est pas qu'image et présence et dont l'intérêt et le rôle demeurent donc dans le pli.
"Peut-être que je n'avais rien dit." -Raymond Carver, Les Vitamines du Bonheur
"Le Pli", Michel Le Belhomme, Der Greif, 30/01/2014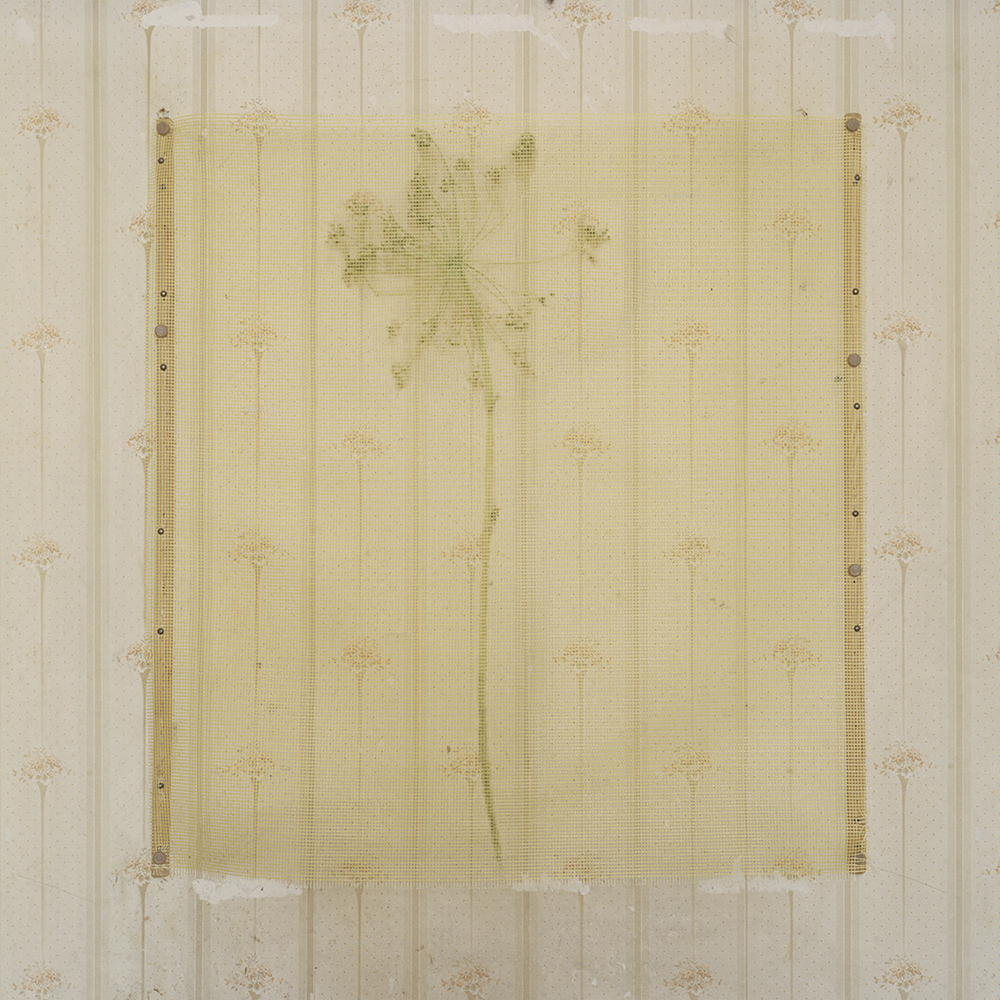 When Water Comes Together With Other Water, La fleur, 2013 
When Water Comes Together With Other Water, Les branches, 2014
When Water Comes Together With Other Water, L'arbre orange, 2012 
This series titled When Water comes together with other Water finds its origins in the literary universe of the famous American short story writer Raymond Carver, whose writing is concise and where the silence of his wretched characters, is worth a million words.  A few lines suffice to show his mastery of the ellipsis.
Claire Laude's series is to be viewed in the light of introspection and therefore that of the ellipsis, her photos represent a single vast and contradictory identity drift that is some times psychological (seen from a spatial point of view) and other times physical.
Introspection is a delicate practice, in which well-defined distance is necessary in order to avoid the risk of excessive self-brandishing.  This work's first quality is that it manages to sidestep this very pitfall; Claire Laude delicately plays with a presence that has become fanciful as she creates contractions between the real world and the otherworldly.  Through a certain starkness, she frees herself from the comfort of showing it all and feeding the bulimic eye.  She brings us along a labyrinth where each image is a piece of the puzzle.  She links landscapes to fading undefined worlds (these stationary voyages are undeniably timeless) and to bodies often seen from behind in a situation of precarious balance.  In each case, one represents the extention and mental vision of the other — how can one not feel the strong sense of loneliness and vulnerability before this tree, standing alone against savagery and destruction, or this ghost-like bookcase where all books are inverted, or this figure, almost primitive, lonely and unsteady, present and yet so absent?  Claire Laude pleats, folds, inverts and unfolds the very meaning of presence.
Nonetheless, this instability must not be seen through the spectrum of melancholy alone as this series not only plays with the invisible and tipping points but it also leads us to experiencing something essential and skeletal, meaning almost structural and devoid of all mannerism.  This nature and its nature, on which she acts or which she uses, creates an atmosphere of shattered glare.  Tints become more palpable than visible, they are restrained, with bated breath (of life), she chooses spectral over spectacular.  There is no posing, no artificiality in this work, it unfolds against the flow of today's easy solutions.  She shows nothing excessive or superfluous.   We rub a surface that remains impalpable. This mirroring game reveals itself and reveals to us a photography that is not only an image and a presence but whose interest and role lie within its pleats and folds.
"Perhaps I hadn't said anything." -Raymond Carver, Cathedral
"Le Pli", Michel Le Belhomme, Der Greif, 30/01/2014
» Works