Murs d'eau, Voiles de pierre, 2019
Murs d'eau, Voiles de pierre, 2019 – Installation, four pieces of white stone from Lessinia, polyamide thread, wood, 110*110*6 cm 
A DREAM, by Jorge Luis Borges
In a desolate place of Iran appears a stone tower, rather low, without doors nor windows. In the only room (the floor is clay and has the shape of a circle) is a wooden table and a bench. In this circular cell, a man who looks like me writes in characters I do not understand a long poem about a man, who in another circular cell writes a poem about a man who in another circular cell … The process has no end, and no one will be able to read what the prisoners wrote. (Personal translation)
This poem came to my mind after my meeting with the architect Vincenzo Pavan in Bosco Chiesanuova, who spent most of his life highlighting the existence of traditional architectural buildings in the Lessinia region. For him, this architecture is an inheritance, a testimony of a history and a science. Any action of restoration must not influence the structure in its essence, even if this means time might turn it into a ruin and eventually make it disappear.
Murs d'eau, Voiles de pierre, 2019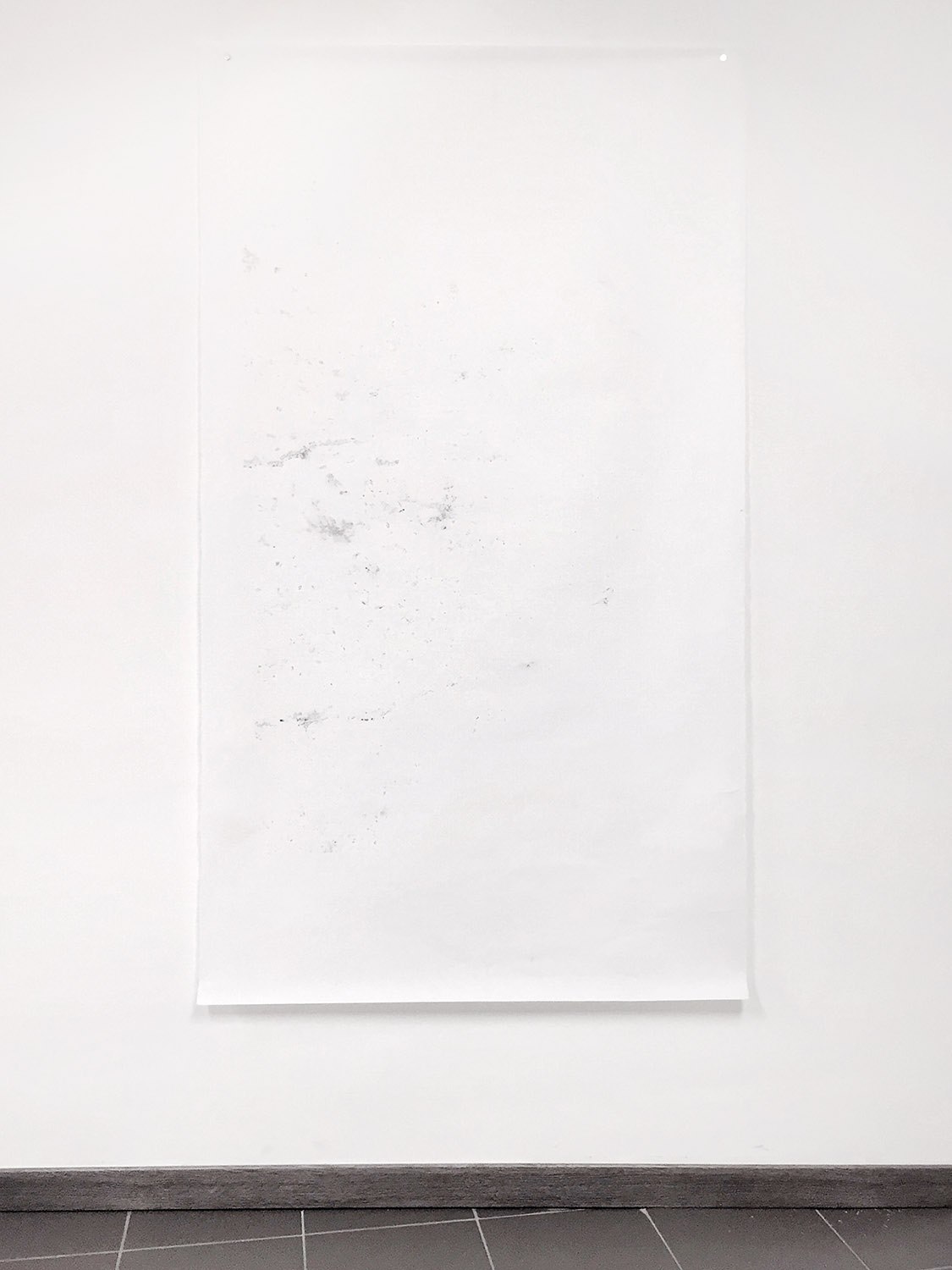 Map of Disappearing architecture, drawing, pencil on Whenzou Rice Paper, 30 g, 100*175 cm – Picture © Rafal Milach
In Italy, there is a heritage of the disappearance. There are a large number of buildings, churches, and even cities, that have been abandoned because of the lack of public funds to restore them, even though they have been used to generate tourism and have been exploited for guided tours. These abandoned buildings belong to the landscape and to the Italian collective imagination.
During my residency in Lessinia, I have seen that even if traditional architecture is omnipresent, it is not perceived, other than as a constituent element of the landscape. In the nineteen many buildings were built to make ice: the ghiacciaie. With modern technology and a lack of knowledge of traditional methods this tradition has been abandoned and the buildings are no longer used as such. Most are left as they are, deserted and closed off to the public. A few have been restored however and function as small museums or places of historical interest that can be visited. Other buildings, such as haylofts, are also no longer used and the current use of concrete has introduced irreversible damage during the restoration process.
In the region of Lessinia, the various restoration projects done on these buildings show an oversight of the history of traditional architecture. The rewriting of this story is manifested through the use of so-called traditional forms, unrelated to the past, their function, materials or through manifestations of appropriation. This reflection raises for me the question of the inheritance and the notion of authenticity and of identity.
Murs d'eau, Voiles de pierre, 2019
This project is part of an ongoing investigation on the relationship between architecture and oblivion, and the meaning of the creation of spaces. One human being inscribes their action in a space, these inscriptions are then superimposed, and their traces can react between each other, until they eventually cause a gradual erasure.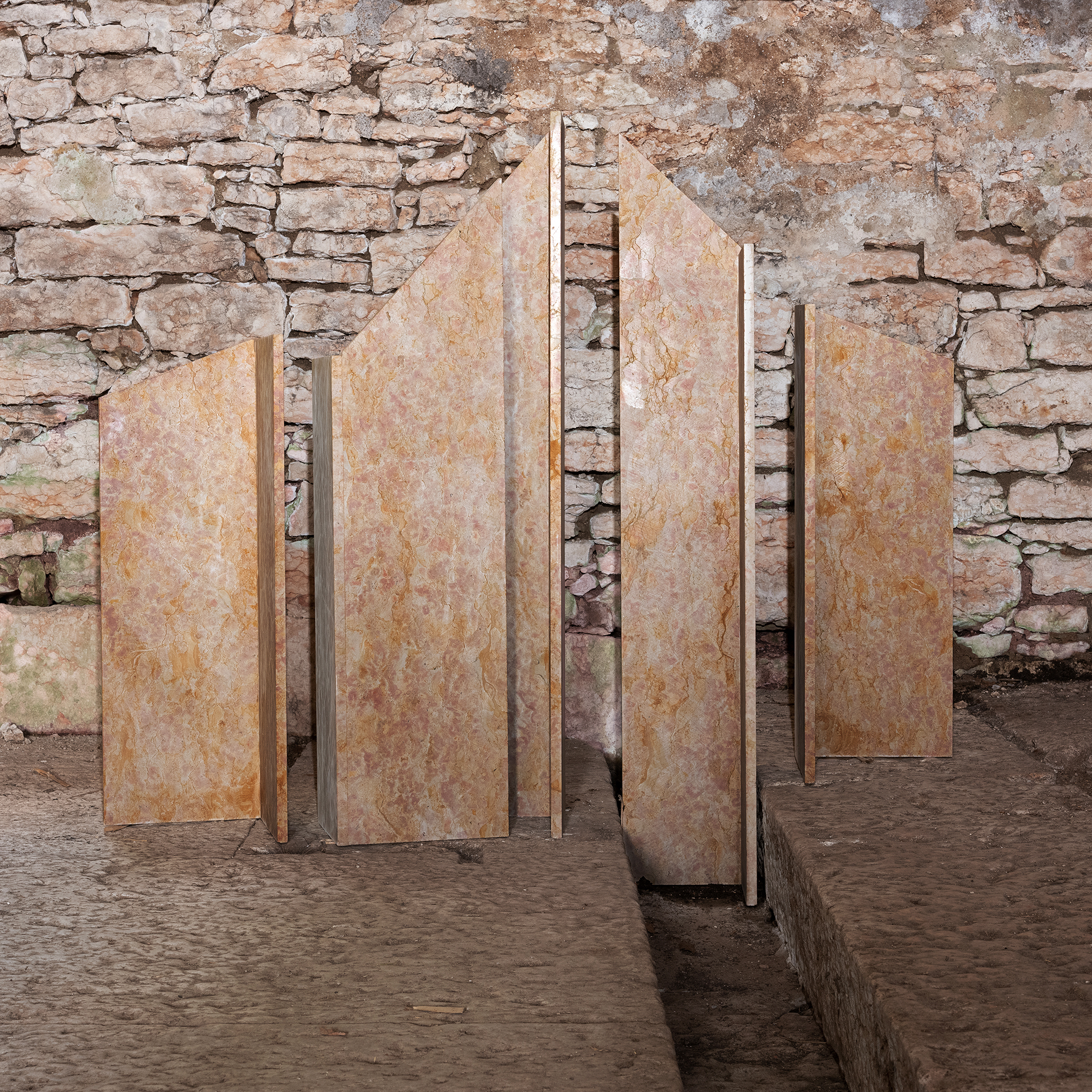 Murs d'eau, Voiles de pierre, 2019 – Installation, yellow pinkish stone from Lessinia, 280*145*75 cm
Place where I did the installations in Vilio, Lessinia – Thanks to SÅM Lessinia, Elena Griogli and her father
» Works