X is to Y as Y is to Z (Les Chambres Invisibles), 2016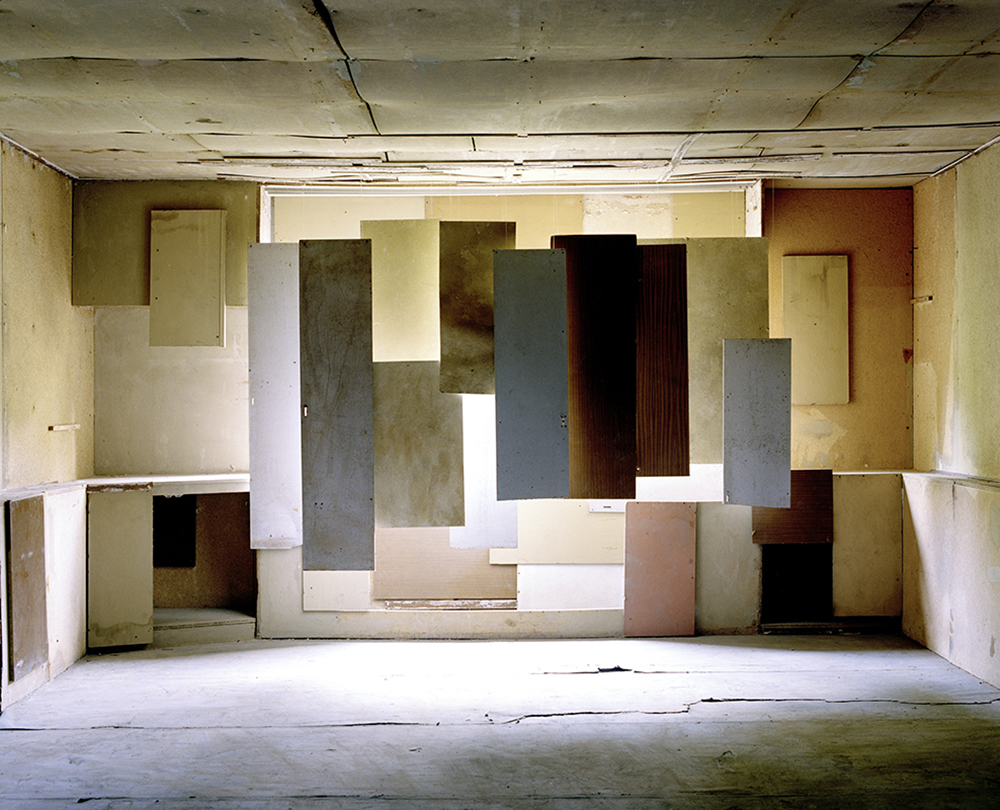 X is to Y as Y is to Z, 2016 – Installation, gefundene Holz Platte, Polyamid Faden, Farbe, Farbreste, Sand, 520*225*90 cm – 104,6 *89,5 cm , Analoger Handabzug auf FUJI DP II matt Papier – Edition 3 + 2AP
"An einem verlassenen Ort lässt Claire Laude zurückgebliebene Objekte vor einer Fensteröffnung zu einer Installation im Raum entstehen. Die Benutzer haben im Laufe der Zeit Spuren hinterlassen deren Beständigkeit die Künstlerin im Prozess des fragilen Installationsaufbaus befragt. Schicht für Schicht bereinigt sie und fügt eigene Spuren mit dem Arbeitsprozess hinzu. In einem minimalistischen und abstrakten Kontext stellt sie die Schichten wie Sedimente neu zusammen, dabei sind die Farbigkeit und das Gegenlicht ein wichtiger Aspekt ihrer Arbeit. Zwischen den Platten flutet es hindurch, streift über das Material, macht Spuren erst sichtbar und löst gleichzeitig mit sanften Farbverläufen die Schwere der Objekte auf, so dass sie uns schwebend im Raum erscheinen. Instabilität charakterisiert die Installation und verweist auf Vergänglichkeit und Verschwinden – jedoch nicht absolut. Das Zurückgebliebene überlagert sich in Schichten, die aufeinander einwirken und lassen einen fragilen, gegenwärtigen Moment entstehen, der sich uns im Bild zeigt.
X, Y und Z sind die Bezugsachsen im räumlichen Koordinatensystem und beziehen sich auf die drei Dimensionen. Der reale Raum, gefüllt mit Spuren des Lebens vergangener Zeiten, wird im Bild zur Fläche und es entsteht ein Spiel zwischen den Dimensionen, welches die Wahrnehmung von Raum im Verhältnis zu seiner bildhaften Darstellung befragt.
Claire Laudes Arbeiten sind geprägt von der seriellen Aneinanderreihung verschiedener fotografischer Genres. Die Landschaftsfotografien, die fotografischen Inszenierungen von Objekten und der Künstlerin selbst sind minimalistisch komponiert. Mit leichten Farben und einer bestimmten Distanz zwischen Nah und Fern thematisiert sie Transzendenz und die Verletzlichkeit jeglicher Beziehung zur Welt in jedem Bild neu."
Tina Brueser, Ausstellungstext- Katalog, Darmstädter Tage der Fotografie, 2016
"In a deserted place, Claire Laude allows forgotten objects to transform into an installation before a window. People have left traces over time, whose persistence she interrogates during the fragile process of its construction. Laude makes adjustments layer by layer and adds her own traces as she works. In a minimalistic and abstract fashion, she recombines the layers like sediments, attending to colour and backlighting. Light streams between the panels, touches the material and makes traces visible. At the same time, it dissolves the objects' weight in gentle colour gradients so they appear to float in the room. Instability characterises the installation, connoting transience and disappearance – but not completely. These remnants overlap in layers that influence each other and allow a fragile present moment to emerge, which reveals itself in the image.
X, Y and Z are the axes of the spatial coordinate system and refer to the three dimensions. The physical room, filled with the traces of life from past times, becomes a surface within the image and a game between the dimensions begins that interrogates the perception of space in relation to its pictorial representation." (…)
Tina Brueser, Catalog Darmstädter Tage der Fotografie, 2016 – Translation : Florence Reidenbach 
X is to Y as Y is to Z, exhibition's view, Darmstädter Tage der Fotografie, Darmstadt, 2016
» Works